LOCATION
One of the most famous and beautiful islands of the Aegean Sea, Santorini or Thira, extends in the southern part of the Cyclades and attracts tourists from all over the world. An island of unique beauty and history since ancient times, Santorini is famous for its volcano, which belongs to the volcanic arc of the Aegean and is characterized as an active along with Methana, Milos, and Nisyros. Santorini, as well as the islands of Thirasia and Aspronisi, are remnants of the volcanic island of Strongyli. The island's history is directly linked to its volcano and its "special" soil, which was created in the form we know today after successive eruptions of the volcano. 

The unsurpassed natural beauty of the island, as well as its interesting Cycladic architecture, make it one of the most popular destinations. Every year, crowds of visitors flock to admire this uniqueness. The unique beaches of the island, with black and red sand, take us back to the Bronze Age, when the great eruption that gave the island its current shape took place. In each area of Santorini, you can find a village of particular interest and unsurpassed beauty, as well as a plethora of sites to admire the famous sunset. 

Santorini, however, apart from its geological and historical interest, has a unique character, gastronomic culture, and a cosmopolitan air that is hard to find. The island is full of cultural interest, as it hosts many museums and archaeological sites. An island with an extensive production of local products and a robust wine tradition that dates back over 3,500 years, it has many wineries and unique varieties that satisfy every taste.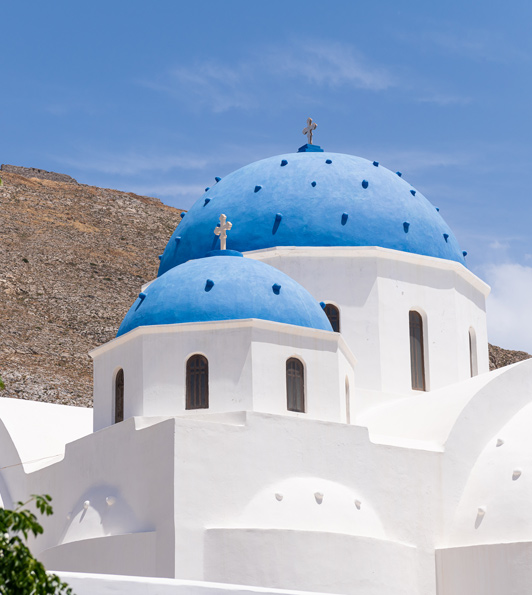 CLOSE DISTANCES
Airport: 11,8 km.

Port: 9,1 km.

Super Market: 250 m.

Tavern: 300 m.

Bakery: 400 m.

Fira: 10,7 km.

Oia: 22,4 km.

3 Bells of Fira: 13,1 km.

Ammoudi Bay: 23,5 km.

Red Beach: 7,9 km.

Megalochori: 5km.

Perissa Beach: 2,1 km.

Kamari Beach: 10,5 km.
Vlichada Beach: 4 km.