ABOUT US
A few kilometers from the famous Perissa, on the island's southern coastline, at the foot of Prophet Elias, is the picturesque village Emporio, where you will find the Mandilaria Studios complex of apartments. The Cycladic landscape is fully harmonized with the particular aesthetics of the accommodation. The Aegean breeze is combined with the beauty of the mountainous landscape, offering the guests of Mandilaria ideal moments of relaxation, tranquility, and rejuvenation. At the same time, they can enjoy all the amenities they wish for their holidays. Its welcoming spaces invite every traveler to feel the intimacy and warmth. 
The spacious, comfortable rooms and the atmospheric environment offer a unique accommodation experience to those who wish to relax and combine luxury with the unparalleled beauty provided by one of the most beautiful Cycladic islands of the Aegean, Santorini. 
The complex has twelve independent apartments, double and triple, as well as maisonettes spread over two floors. All apartments have a private balcony with a view of the village or the sea, depending on your preferences, while providing all the services and amenities the guest needs. The complex is designed to accommodate families, groups, and couples since each apartment is completely independent and can offer the privacy you desire; the common areas, such as the pool or the bar, are ideal to experience moments of relaxation with your friends or family.
The hospitable owners, driven by particular elegance, have created a beautiful complex in order to provide excellent services that will cover everything a visitor is looking for while traveling. The complex offers all the comforts since all the apartments are fully equipped, and the services provided guarantee an unforgettable stay.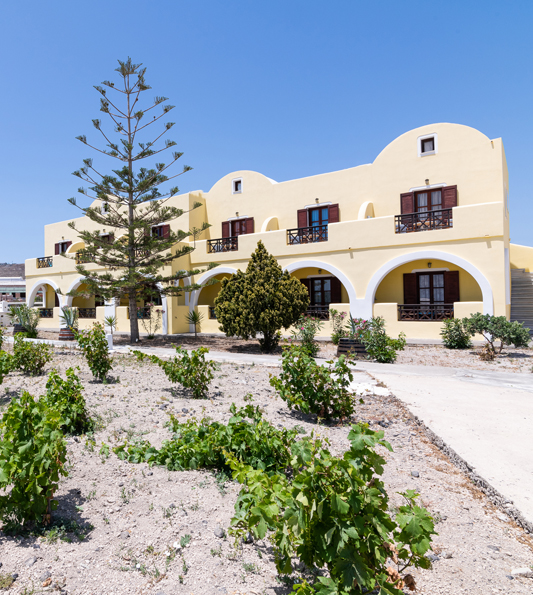 FACILITIES
Daily housekeeping services
Free Wi-Fi
Air conditioning
Safe
Satellite TV
Kitchenette with cookware and cutlery
Mini-fridge
Kettle
Closet
Iron
Hairdryer (upon request)
Babysitting (upon request)
Private parking 
Pool and children's pool
Playground
Satellite TV
Bathroom with shower
Towels
Iron-Ironing Board (upon request)
Wake-up service (upon request)