Welcome to Mandilaria Studios
Just two kilometers from Perissa and a few meters from the beautiful beach of Perivolos, in the village Emporeio, Santorini, lies the Mandilaria Studios apartment complex. The Cycladic landscape is in complete harmony with the particular aesthetics of the accommodation, where the Aegean breeze is combined with the colors of ochre and white, offering its guests marvelous moments of relaxation, tranquility, and rejuvenation while they can enjoy all the comforts during their holidays. 

The spacious, comfortable rooms and the atmospheric environment offer a unique accommodation experience to those who wish to relax and combine luxury with the unparalleled beauty generously provided by one of the most beautiful Cycladic islands of the Aegean, Santorini.
 
COMBINE COMFORT
AND RELAXATION!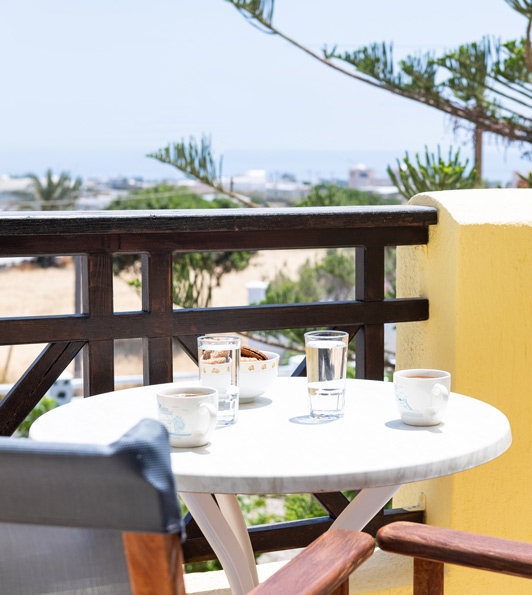 COMBINE COMFORT
AND RELAXATION!
The Mandilaria Studios complex has twelve independent apartments, airy and bright, spread over two floors, designed to provide all the comforts and cover all the needs of the traveler. From the beautiful balconies of the apartments, you can enjoy the breathtaking scenery of the sea or the village, depending on your preference. All the apartments have a particular, unique aesthetics that will make you feel a special intimacy, while the earthy decoration combined with the magical shades of the landscape will offer you the relaxation and carefreeness you are looking for during your holidays.
The location
Built in Emporeio Santorini, just 12 km from Fira, is located the largest and most picturesque settlement of the southern part of the island. A short distance from the beach of Perivolos, and just 2km from Perissa, Mandilaria Studios is the ideal location for a peaceful and relaxing holiday.
An accommodation "embraced" by nature and just a breath away from the sea is the right choice for unique moments of relaxation for those who want to be away from the noise of the busy places of the island. The area around the pool is the ideal place for rejuvenation, where the guests will feel the tranquility and the gentleness of nature combined with the unique comforts that Mandilaria Studios. An ideal environment for unforgettable moments, every hour of the day!